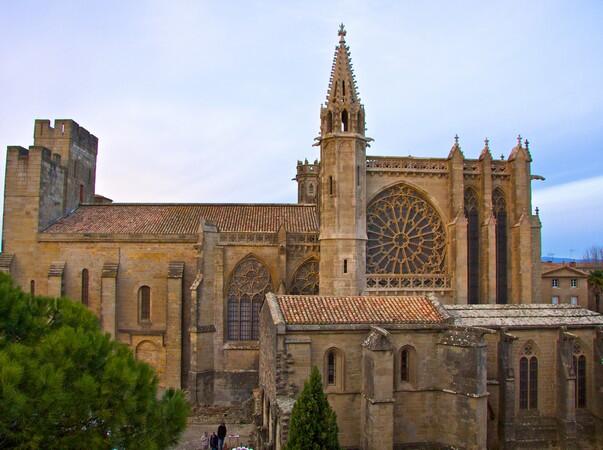 BASILIQUE SAINT-NAZAIRE ET SAINT-CELSE
Basilica , Religious building
at Carcassonne
The "Jewel of the City" (11th-14th centuries). Saint Nazaire is an example of the harmonious coexistence between the Romanesque and Gothic, and whose stained glass windows are the most beautiful in the Midi region. Mass every Sunday at 11 am.

Spoken languages
From

March 1, 2020




until

March 31, 2020

From

April 1, 2020




until

October 31, 2020

From

November 1, 2020




until

December 31, 2020
Tuesday

9:00 AM - 6:30 PM

Wednesday

9:00 AM - 6:30 PM

Thursday

9:00 AM - 6:30 PM

Saturday

9:00 AM - 6:30 PM

Sunday

9:00 AM - 10:45 AM

12:30 PM - 6:30 PM
Tuesday

9:00 AM - 8:00 PM

Wednesday

9:00 AM - 8:00 PM

Thursday

9:00 AM - 8:00 PM

Saturday

9:00 AM - 8:00 PM

Sunday

9:00 AM - 10:45 AM

12:30 PM - 8:00 PM
Tuesday

9:00 AM - 5:30 PM

Wednesday

9:00 AM - 5:30 PM

Thursday

9:00 AM - 5:30 PM

Saturday

9:00 AM - 5:30 PM

Sunday

9:00 AM - 10:45 AM

12:30 PM - 5:30 PM
Leave a review about Basilique Saint-Nazaire Et Saint-Celse :
Bad

Average

Good

Very good

Excellent
fuimos a conocer carcassone y ahi nos encontramos esta joya.

Petit à l'intérieur mais très prenant

A voir pour une courte visite (actuellement en travaux)

impressive, we enjoyed the concert in the cathedral

Super chants qui mettent la chair de poule

Visite à faire avec un guide qui vous fait découvrir de petits détails parmi les merveilles d'architecture, de vitraux et de sculpture qu'il serait dommage de ne pas voir . En sortant on s'imagine encore au moyen âge. Somptueux !!!

vitraux magnifiques, un très beau site à ne pas manquer.