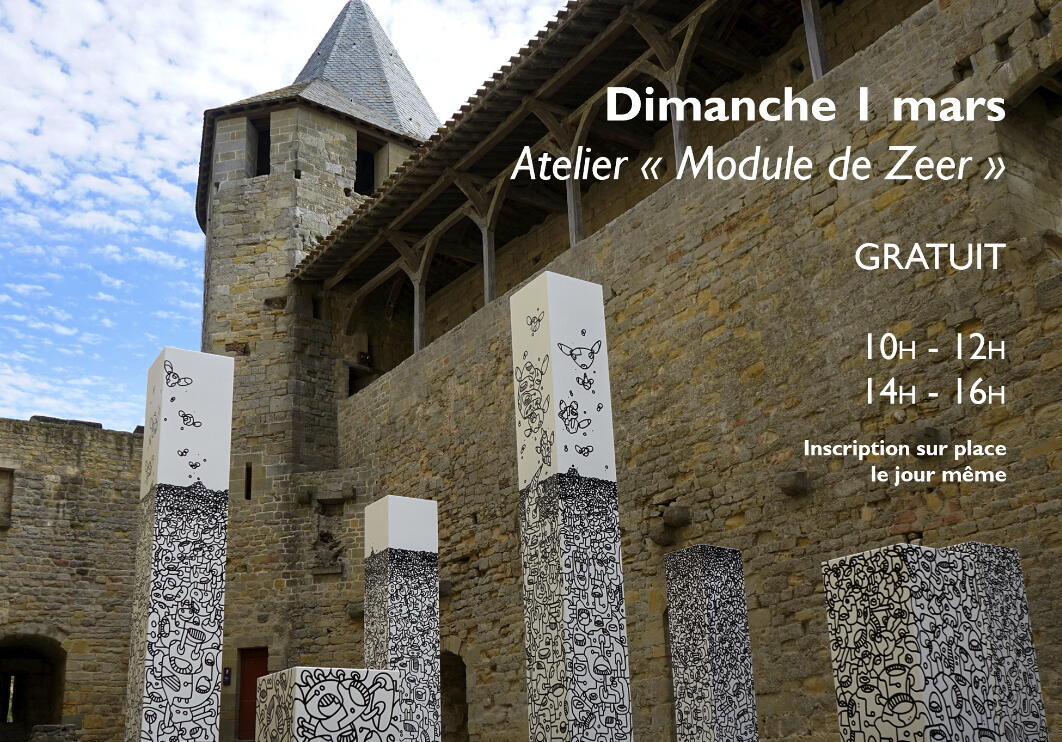 DIMANCHE GRATUIT - ATELIER "LE MODUE DE ZEER"
Visit , Guided tour
at Carcassonne
March 1 is free Sunday at the Chateau Comtal! In partnership with the Ministry of Culture, the Center des Monuments Nationaux presents a creation "Le Module de Zeer" in the Chateau Comtal in the city of Carcassonne (visible until as of April 30). In the early 2000s, Mehdi Cibille, visual artist from street-art, created his "Module", a set of black lines that constitute a complex branch. It is a falsely repeating motif evoking cellular development, the Mayan glyphs or version 2.0 of Jean Dubuffet's Hourloupe. On the occasion of the free Sunday, discover his work and participate in a creative workshop where everyone can invent their own Module! Meet on March 1 from 10 a.m. to 12 p.m. and from 2 p.m. to 4 p.m. ... Until March 31, 2020, every 1st Sunday of the month, the castle and the ramparts will be open free of charge. This measure is part of the CMN's access to culture policy. Please note, the monument is free, all year round, for 18-25 year olds (nationals of the European Union or regular residents in the territory of the European Union).
Schedules

On

March 1, 2020

from 10:00 AM to 12:00 PM and from 2:00 PM to 4:00 PM
Leave a review about Dimanche Gratuit - Atelier "le Modue De Zeer" :
Bad

Average

Good

Very good

Excellent
magie de Noel au Chateau Comtal

Triste, un cadre magnifique avec pleins de belles choses à faire...