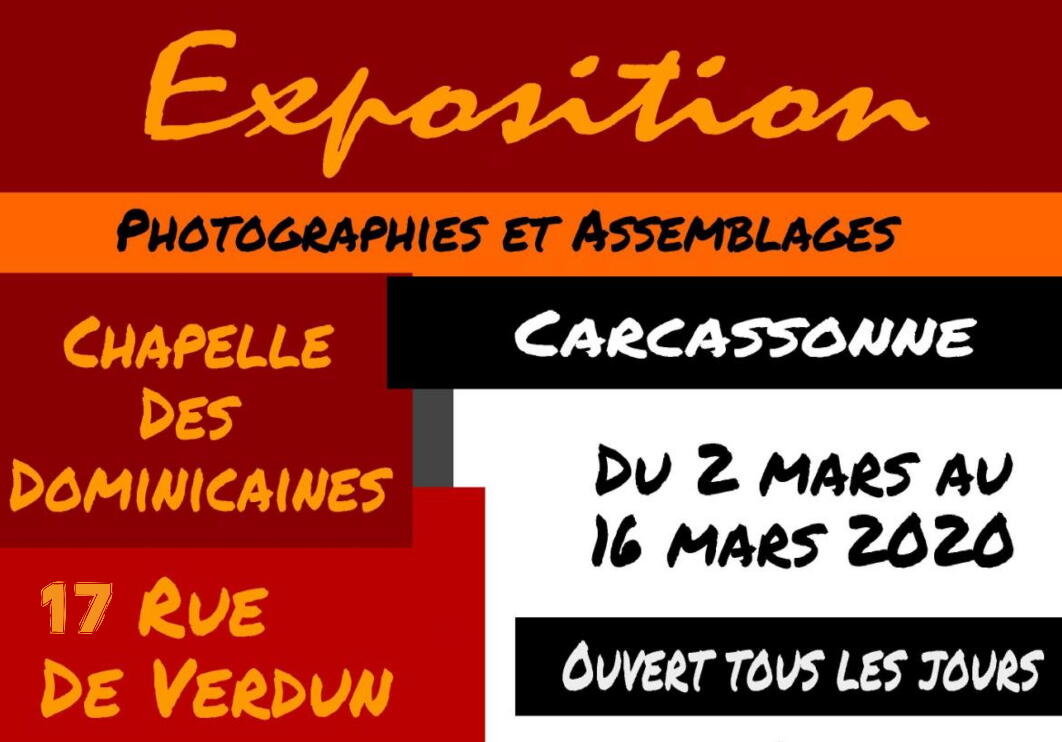 EXPO - PHOTOGRAPHIES & ASSEMBLAGES
Local event , Exhibition
at Carcassonne
David SAMBLANET is a photographer, he is also the creator and manager of the "PHOT'OEIL" gallery. He has just published a book of photographs entitled: "LES RENDEZ-VOUS PHOTOGRAPHIQUES" which brings together 10 years of creation, on his initiative, and participation in the photographic section included in "THE CINEMATOGRAPHIC MEETINGS OF CERBERES-PORTBOU". At the Dominican chapel, he will present the series "Re-exhibition" "This project is the result of a staggering encounter between him and the" Cirque de Vivé "located in the Corbières. The constraint was to decline the same landscape 99 times with reference to the singular book "Exercise of style" by Raymond QUENEAU which tells 99 the same story, each time, in a different style ". "The serial creation of this allegorical research, between reality and fiction, also allowed the birth of a written dialogue between this unique landscape and the reminiscences of a man. By observing the photographs, the narrator performs a work introspective, it is a sort of outlet to its past. Thanks to this external environment, memories spring up in the interior labyrinth of its mental space. It will gradually exhume ghosts huddled in the depths of its memory. " ---------------------- Bernard LAPEÑA is a photographer, author and assembler. "His work tells stories from everyday life, through scenes experienced or seen, words heard, fragments of news and his texts. He uses several techniques. In addition to photography, he uses collage inspired by some magazines by retrieving photos and words. Also, assemblages presented as tables, including various objects in small boxes, sometimes with photographs and mostly texts. "Game over" or "Empty memory" or between other "Eldorado" are certain of the Complementary titles of this work. Some of its assemblies are also declined in three dimensions and exposed on bases like sculptures and recently in tables. For a few years, it uses letters of old machines with writing which, twisted, become human figures capable of describing certain situations, for example in the pieces entitled "Hors Je" or "Non". Human beings are at the center of their work. " At the Dominican chapel, he will present assembly boxes and assembly tables. Free entry. Opening on March 6 at 6:00 p.m.
From

March 2, 2020




until

March 16, 2020
Tuesday

2:00 PM - 6:00 PM

Wednesday

2:00 PM - 6:00 PM

Thursday

2:00 PM - 6:00 PM

Saturday

10:00 AM - 6:00 PM
Leave a review about Expo - Photographies & Assemblages :
Bad

Average

Good

Very good

Excellent
There is no review about Expo - Photographies & Assemblages, be the first to leave one !