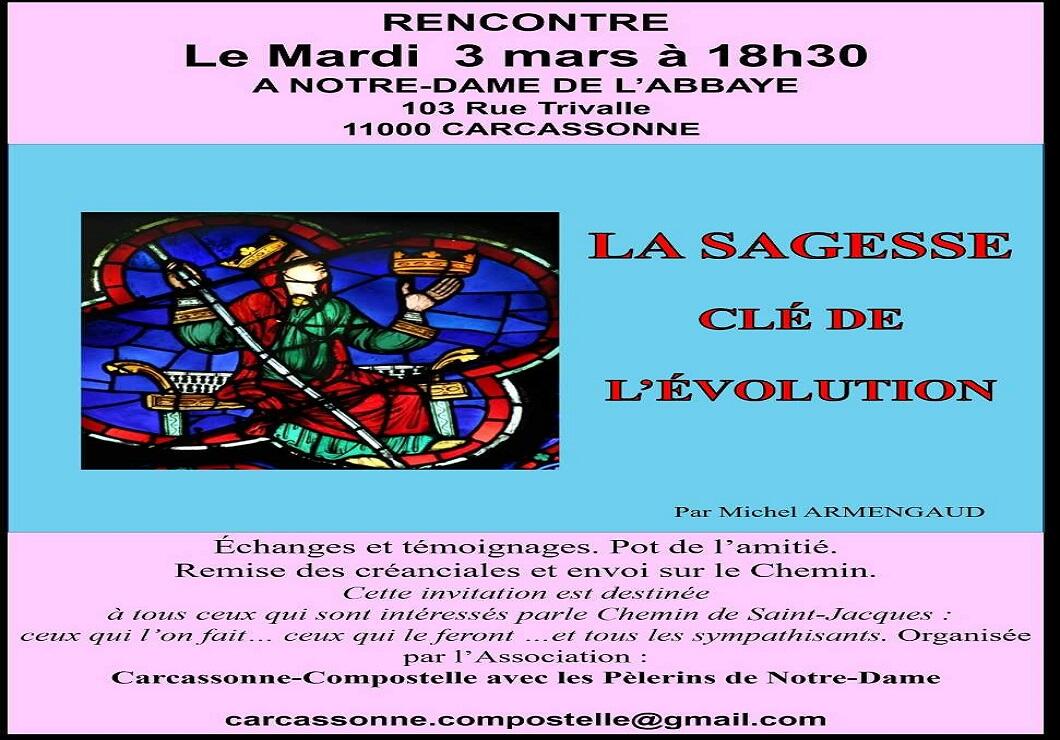 LA SAGESSE CLEF DE L'EVOLUTION
Lecture
at Carcassonne
at Notre Dame de l'Abbaye, Michel Armengaud will present a conference on the theme: "The key wisdom of evolution" To tickle your curiosity, here is Michel's presentation below: See you Tuesday THE KEY WISDOM OF EVOLUTION Wisdom being the goal of our evolution, we can be confused by the fact that it is considered to be the key to this evolution! According to the Old Testament writings, from the beginning the Lord created Wisdom and She was at work with Him. Under the influence of Stoic philosophy, Sophia becomes the Logos of the Gospel according to John. When Paul of Tarsus writes that "the whole of creation groans in the pains of childbirth" he translates a certain awareness of Evolution. Is it not divine Wisdom that is at work to give meaning to this Evolution? With the emergence of the Human Phenomenon, man becomes co-evolver. So how will the quest for wisdom allow humanity to cross the threshold of the 21st century by renouncing the temptations of transhumanism to converge on the Omega so dear to Teilhard de Chardin? This will be our reflection!
Schedules

On

March 3, 2020

at 6:30 PM
Leave a review about La Sagesse Clef De L'evolution :
Bad

Average

Good

Very good

Excellent
There is no review about La Sagesse Clef De L'evolution, be the first to leave one !