TOURNOIS DE CHEVALERIE
Show
at Carcassonne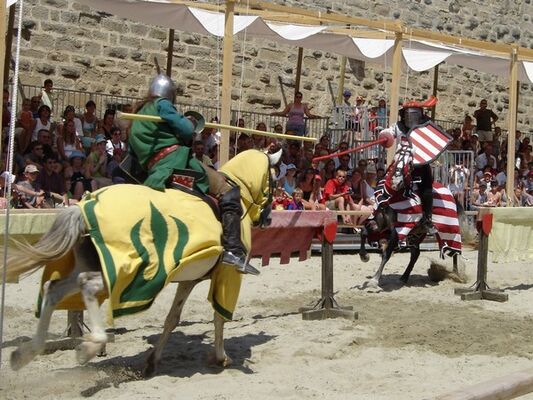 OMT de Carcassonne
OMT de Carcassonne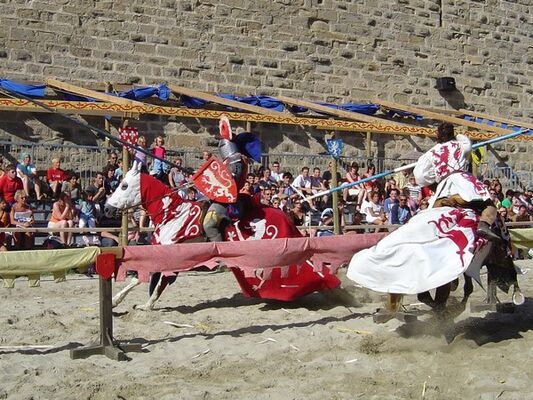 OMT de Carcassonne
Equestrian show in the lists of the City of Carcassonne, every day except Saturday. 2 daily performances: at 3 pm and 4 pm 45. Duration one hour. No reservation online or by phone. Tickets are only available locally. This medieval tournament evokes with panache the Art of the war and the courtly contests. At the rhythm of the horses and the shock of arms, the Knights clash without mercy in a grandiose setting.
Schedules

From

July 7, 2019

until

August 27, 2019
OMT de Carcassonne
OMT de Carcassonne

OMT de Carcassonne
Leave a review about Tournois De Chevalerie :
Bad

Average

Good

Very good

Excellent
Comme chaque année un spectacle super ou les chevaux sont valorisés, de très bons comédiens et les cascadeurs de plis en p'us talentueux !!

avec deux enfants en bas âge. On a adoré un sacré travail derrière ce spectacle. Félicitations !

Nous avons beaucoup apprécié ! Les acteurs cascadeurs, les chevaux, les costumes, le son sont parfaits et l'on passe un très bon moment (à l'ombre) avec de l'humour en plus, bravo !

Malgré un tarif un peu cher , j'avoue y aller tous depuis 3 ans et tous les ans je m'éclate avec mes enfants de 9 et 2 ans. Amusant, très bien joué avec de vrais combats. À l'abris du soleil on profite pleinement du spectacle. On peut laisser les poussette sur le côté sans crainte. Merci à cette belle équipe.

Les acteurs cascadeurs mettent en scène pour tout public ! Chevaux, joutes ... une heure qui file à la vitesse d un cheval au galop! Merci

Un agréable moment face au spectacle

Bravo très beau spectacle

Un super beau moment pour les grands et les petits. Plein d'humour et de cascades . Nous avons apprécié la proximité avec les chevaliers, leurs "combats" et figures.

Jeux d'acteurs, humour, acrobaties et durée du spectacle, parfait! C'est distrayant, pour petits et grands. Dynamique et impressionnant. Merci à tous les acteurs et à tous les organisateurs. A voir et à revoir.

Nous avons assisté au spectacle hier, en famille. 2 adultes et deux enfants. Le spectacle est formidable, bien joué, amusant, combats et cascades à volonté, humour. enfants et parents ravis. prix plus qu adapté à la prestation.

Excellent spectacle ! Tres belles cascades, spectacle amusant, bien joué. A voir !

C'est bien trop cher pour ce que c'est ! 48 euros la sortie en famille, juste pour les joutes... Même pas un tarif préférentiel pour les audois ou autres locaux ! De quoi nous dégouter de notre région dont nous habitants ne pouvons même pas profiter !!!

Grandiose, fantastique, drôle, épique ! On passe un bon moment et on a pas envie que ça se finisse !